---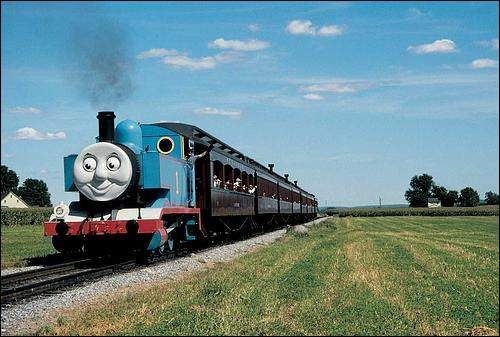 More Thomas Pictures from A Day out with Thomas
Thomas Train Videos from Riding the Rails



"Come Ride the Rails", A Day Out with Thomas, features a real Thomas the Tank Engine Train, with moving eyes and a real Annie and Clarabelle. This train tours the country to promote the Thomas the Tank Engine brand and children young and old have a blast entering the world of Thomas & Friends. Kids can ride a train lead by Thomas and have their pictures taken with Sir Topham Hatt.

The great thing about this is that it is a touring exibit, visiting scenic railroads around the US. Every location is different, but all of them will include a place to watch Thomas videos, a place for story time and things like temporary tattoos of the engines.

Just for background information, in the United States there are several traveling Thomas replicas. One is narrow gauge, the others are standard gauge. While in transit from one location to another their appearance is disguised. Thomas only appears in full dress at Day Out with Thomas events at host railroads arranged through HIT Entertainment. Many of the larger railroad museums and tourist railroads across the United States host Day Out with Thomas events periodically.

For more info, check out the websites for the host railroads, listed below.

It's the easiest way to spot an event near you. Click on the star to see more details about said event.

Also, If you happen to be in England, every summer, Thomas steams in Leicestershire on a privately run, eight-mile tourist track as the star of a one-day children's festival that draws over 25,000 people. The smoke and toot-tooting revives memories of an uncomplicated era gone by. It might be worth the trip if you're over there. You can email me for more details.








April 2008
Apr 11-13 & 18-20


Inland Lakes Railway
Tavares,FL
www.inlandlakesrailway.com
April 25-27 & May 2-4 & 9-11


Henry Ford Museum
Dearborn, MI

Apr 25-27 & May 2-4


Tennessee Valley Railroad
Chattanooga, TN
www.tvrail.com
Apr 25-27 & May 2-4


B & O Railroad Museum
Baltimore, MD
www.borail.org
June 2008
June 6-8 & 13-15


Midland Railway
Baldwin City, KS
www.midland-ry.org
June 6-8 & 13-15


Black Hills Railroad
Hill City, SD
www.1880train.com
June 11-15


National Railroad Museum
Green Bay, WI
www.nationalrrmuseum.org
June 13-15


Durango & Silverton RR
Durango, CO

June 20-22 & 27-29


Whitewater Valley Railroad
Connersville, IN
www.whitewatervalleyrr.org
June 13-15 & 20-23


Edaville USA
Carver, MA

June 14-22


Strasburg Rail Road
Strasburg, PA

June 27-30 & July 4-6


Mt. Hood Railroad
Hood River, OR
www.mthoodrr.com
June 27-29 & July 4-6


Kentucky Railway Museum
New Haven, KY

June 27-29 & July 4-6


Prairie Dog Central Railway
Winnipeg, MB
www.pdcrailway.com
July 2008
July 11-13 & 18-20


Northwest Railway Museum
Snoqualmie, WA

July 11-13 & 18-20


Conway Scenic Railroad
N. Conway, NH
www.conwayscenic.com
July 18-20 & 25-27


Elgin County Railway Museum
St. Thomas, ON
www.ecrm5700.org
July 18-20 & 25-27


Fremont & Elkhorn Valley RR
Fremont, NE

July 25-29 & 31-Aug.3


Great Smoky Mts. Railway
Dillsboro, NC

July 25-27 & Aug. 1-3


Boothbay Railway Village
Boothbay, ME
www.railwayvillage.org
July 25-27 & Aug. 1-3


Roaring Camp Railroads
Felton, CA

August 2008
Aug. 1-3 & 8-10


RR Museum of New England
Thomaston, CT
www.rmne.org
Aug. 15-17 & 23-24


IL Railway Museum
Union, IL

Aug. 15-17 & 22-24


Huckleberry Railroad
Flint, MI

Aug. 15-17 & 22-24


Ottawa Central Railway
Ottawa, ON

Aug. 30-31 & Sept. 6-7


Tennessee Central Railway
Nashville, TN

Aug. 29-31, Sept.1& 6-7


Edaville
Carver, MA

September 2008
Sept. 5-7 & 12-14


Lebanon Mason Monroe RR
Lebanon, OH

Sept. 13-14 & 19-21


Boone & Scenic Valley RR
Boone, IA
www.scenic-valleyrr.com
Sept. 13-21


Strasburg Rail Road
Strasburg, PA

Sept. 13,14,20,21,27,28


Colorado Railroad Museum
Golden, CO

Sept. 26-28 & Oct. 3-5


North Carolina Trans Museum
Spencer, NC

Sept. 26-28 & Oct.3-5


Oklahoma Railway Museum
OK City, OK

October 2008
Oct. 17-19 & 24-26


Texas State Railroad
Rusk, TX

Oct. 17-19 & 24-26


SAM Shortline
Cordele, GA

November 2008
Nov. 1-2 & 8-9


Essex Steam Train
Essex, CT

Nov. 8-9, 11, 15-16


Orange Empire Railway
Perris, CA

December 2008
Dec. 5-7


Strasburg Rail Road
Strasburg, PA


To learn more about the island of Sodor in general, please see Percy Engine.